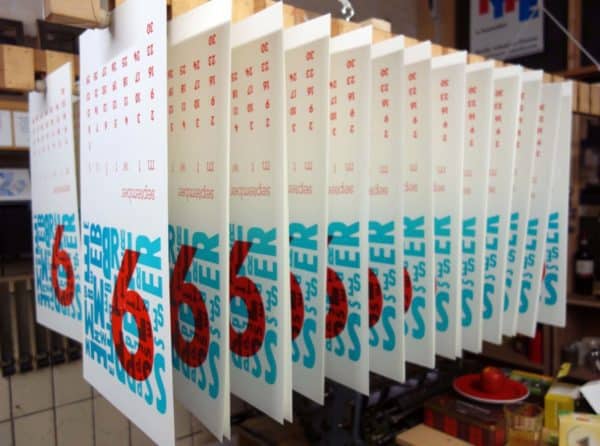 Do you want to print like a Pro? Don't look any further!
Professional and hands-on approach with experienced, knowledgeable and passionate teaching.
Courses are being held in a unique and inspiring location in the centre of Amsterdam. Just a 10-minute walk from Central Station. Personal attention for small groups or one-2-one courses. Well equipped, fascinating workspace with a variety of type and presses…
Courses available in Dutch, English, French and German.
Evening Courses
Evening courses are 6 nights filled with type, ink, paper and presses. Participants will learn basics and are given a group assignment where each member can pursue their own idea or project. Maximum participation 4 members.
Tuesday Evening Course
May 22–June 26, from 19:00–21:30 hrs
€ 250, inclusive of materials, coffee and tea etc. (a few places available)
Weekend Courses
During the 2-day course, you will get a thorough introduction to letterpress printing. You will learn to set metal and wood type, and print on Vandercook or Korrex proofpresses.
Sat 14–Sun 15 April, from 10:00–17:00 hrs (1 place available)
Sat 19–Sun 20 May , from 10:00–17:00 hrs
€ 250, inclusive of materials, coffee and tea etc.
Weekend courses can also be private or in groups of up to 4, and can be adjusted to meet the needs and experience levels of the participants.
In-Depth Typography
A 5-day workshop
23–27 April, from 10:00–17:00 hrs
€ 450, inclusive of materials, lunches, coffee and tea etc.
Maximum 4 participants (fully booked)
During this 5-day workshop in the studio of LetterpressAmsterdam, you'll be learning the finer details of typesetting, proofing, lay-out, setting up a forme, preparing for and printing. At the same time, you'll learn about press maintenance etc.
Summer Workshop Typography
A 5-day workshop
Mon 13–Fri 17 August, from 10:00–17:00 hrs
€ 450, inclusive of materials, lunches, coffee and tea etc.
The workshop will take place at the attractive and light-filled AtelierT in Bierbeek (Belgium). AtelierT – an initiative of Niels Goovaerts and Katleen Vereecken – is situated close to Leuven. In a rural setting we'll be working with poetry and type, with time for food, drink and discussion.
Photopolymer courses
If you want to work to an extremely high standard with photopolymer and learn in a professionnal way, then this 1-day course is the answer. All year round by appointment.
200 €, inclusive of coffee and tea etc.
Explore new techniques!
Already have some experience with letterpress techniques, and looking to dive a bit deeper? Select the workshop that suits you best – or arrange a weekend course with a friend. Contact us!
Studio Pass
People with letterpress experience can purchase a Studio Pass and will have access to our quality type, presses and photopolymer equipment. No more than two persons at a time. Presses available: a Vandercook Universal I, a Korrex Hannover and a Korrex Stuttgart.
Thomas Gravemaker (typographer/letterpress printer and founder of LA) will be there to advise and guide you.
…further courses and workshops will be announced throughout the year…
I bring years of experience, you bring enthusiasm, questions and a willingness to learn!