Prijs: € 175
Ophalen in: Wageningen
(Kan worden opgehaald of per post worden verstuurd)
---
Jelle
jelle@rockingstone.com
06-51013201
---
10 juni 2021
Laurentius Frans & Theo Laurentius: Watermarks 1600-1650 Found in the Zeeland Archives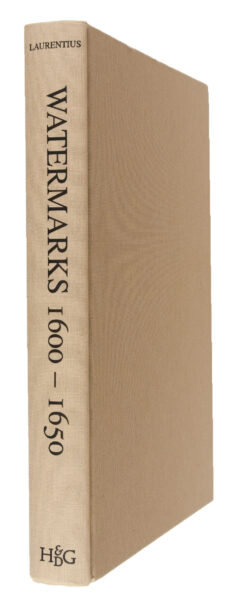 Laurentius Frans & Theo Laurentius: Watermarks 1600-1650 Found in the Zeeland Archives
Houten, Hes & De Graaf, 2008. 284 pp. As new, in perfect condition. Price new: 746 euro.
The seventeenth century is an underrepresented period in the publications on watermarks. A growing demand in the fields of history and art history for exact dating of documents and artworks on seventeenth century paper was one of the main reasons for the authors to conduct research in this area. This book is based on the "Ingekomen Stukken" ("Received Pieces") of the Staten van Zeeland (States of Zeeland), carefully collected per year and preserved in the Zeeland Archives in Middelburg. In order to reproduce the watermarks in actual size, as was the case in volume 1600-1650, "soft X-ray" equipment developed by Dr. Jan van Aken (emeritus professor dental radiology of the University of Utrecht) was used.
With 1221 black and white and 7 full colour true size photographs and detailed descriptions Watermarks (1650-1700) Found in the Zeeland Archives gives together with the first volume (Watermarks (1600-1650) Found in the Zeeland Archives) a long awaited overview of the watermarks and the types of paper that where available in The Netherlands in the 17th century.
An indispensable tool for all those who are interested in paper, economy, history and art-history.