Vanderborght & Dumont Pedal press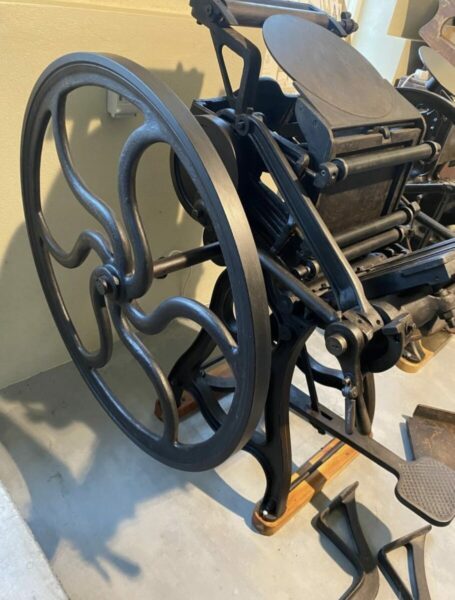 Does anyone here know anything about this press made by Vanderborght & Dumont, Bruxelles?
All pictures here: https://www.dropbox.com/sh/zyymg33r40vzspq/AACXzE4CfMHoLcwb0yYCCF6Da?dl=0
I can not find any information of reference pictures of this press. I have only found information about Vanderborght & Dumont themselves and the type foundry they ran: https://www.bellenger.fr/typographie/index.html
Is this a good press? I currently own a Hogenforst Boston-Tiegeldruckpresse "Stabil" II and in need of a larger press that can print with more power for letterpress work but also decorative debossing and embossing work on A5 paper sizes for my little stationary business that I am starting.
It's for sale very close, 1h from where I live and it would be a convenient purchase in that regard. It does need some TLC from what I understand. I will find out more soon. The rollers looks like they need to be replaced? What else can you find?
Thank you in advance for your input!